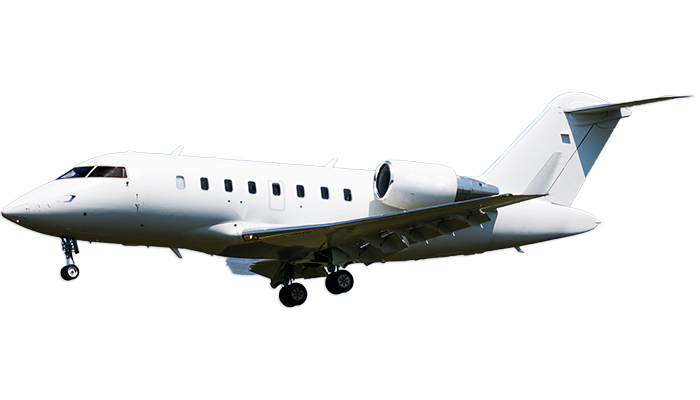 Challenger 604 Charter
Description
The Challenger 604 is a twin-engined jet aircraft, part of the 600 series, manufactured by Bombardier (formerly Canadair) since 1987.
Over 1,000 aircraft of this type have been built - making it a very popular choice for charter flights with both good availability and reliability.
The Challenger 604 is a further development of the Challenger 600 and 601, with seating for up to 19 passengers (in a high-density seating configuration). In a more luxurious configuration the aircraft seats between 8 and 10 passengers.
With additional fuel tanks in the rear of the aircraft, the range was increased to 6.112 km (3300 nautical miles). This range increase was a crucial step in making the aircraft a long-haul aircraft, with the new range allowing transatlantic flights for the first time.
The hourly charter rate for a Challenger 604 starts at roughly € 6,000 (~ £ 5.400 or 6.700 USD) per flight hour. This cost per hour typically includes a flight attendant and warm VIP catering for longer flights.
The Challenger 604 features a large interior, with a typical configuration of four-chair leather club seats at the front of the cabin, and a divan with two vis-a-vis club seats at the rear. The chairs are typically fully reclining and are able to swivel, whereas the divans may be used for sleeping.
Similar Aircraft
If you have any questions about chartering this aircraft, please do not hesitate to contact our team.
Aircraft Summary
Manufacturer:
BombardierCategory:
Heavy jetLavatory:
Fully EnclosedFlight Attendant:
On RequestTypical Catering:
Cold VIP CateringMaximum Passengers:
10Range:
6,112 kmCruising Speed:
833 km/h