Coronavirus: Impact on Private Jet Flights
We look at the operational impact of COVID-19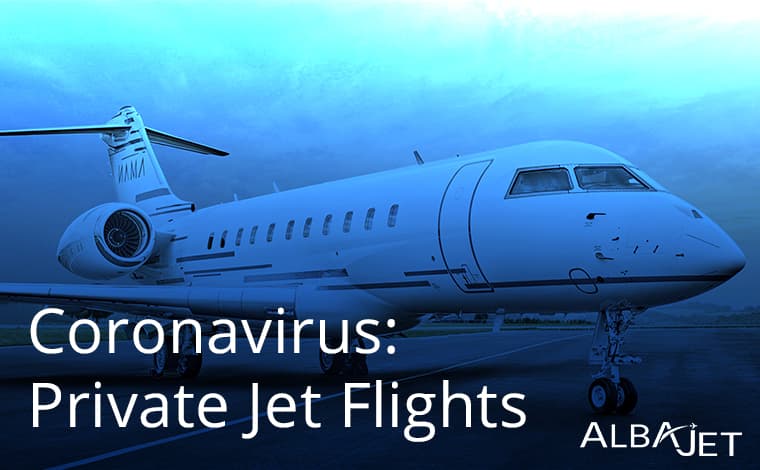 More and more travellers are turning to private jets as a safe and efficient means of transportation during the ongoing COVID 19 pandemic. The private aviation sector has grown by 20 per cent since the beginning of the crisis in early 2020.
At the beginning of the coronavirus outbreak, AlbaJet performed a large number of repatriation flights, especially from areas where commercial flights were cancelled. Nowadays, many first-time customers are turning to private jet companies as a low-risk alternative to traditional commercial airlines, especially in regions which have been cut-off from regular scheduled services.
Private aviation is becoming more affordable to an increasing number of people, thanks to discounted empty legs. Make sure to check out our currently available empty leg flights for last-minute deals.
Are private jets affected by coronavirus?
Jet charter flights are subject to the same restrictions as commercial airlines. That being said, private aviation benefits from a large degree of flexibility: flights can be arranged on very short notice, even to secondary airports which are otherwise very hard to reach by air.
Aircraft operators are implementing various safety measures to ensure customer safety during charter flights, including disinfecting aircraft interiors between flights, and ensuring that ground staff and flight crew wear protective masks at all times.
What are the current travel restrictions?
Due to the constant change in restrictions, we recommend visiting the IATA travel regulations map to receive up to date information on the travel restrictions for individual countries. In our experience, this is the most frequently updated list available.
In many countries, there are either testing and/or quarantine measures being enforced, this can depend on both the country of origin and/or the nationality of the passengers.
In Europe, the EU council has proposed a list of exempted categories for individuals permitted to bypass quarantine requirements: this proposal has been accepted by numerous countries. This applies particularly to the business travel of essential healthcare workers and health professionals.
AlbaJet is currently offering free cancellation to all customers if a flight is cancelled due to new COVID 19 travel regulations.
What are the benefits of travelling by private jet?
Numerous measures are being taken by private jet operators to mitigate the risk of viral contagion including disinfecting the passenger cabins and cockpits between flights.
Choosing a private jet charter instead of flying by commercial flight has numerous advantages:
Use of a private jet terminal rather than the main terminal: this reduces the number of touchpoints significantly.
Aircraft cabins are fully disinfected between flights in compliance with FAA and EASA guidelines.
You will not share the cabin with other passengers.
Avoid unreliable airline flights, which are can be subject to cancellations and possible bankruptcies.
You can get an estimate price, and request a personalised quote, by using our private jet cost calculator.
Are private jet pilots tested for COVID?
Flight crew are subject to regular testing, as many countries require a negative test for the crew to enter. Since the beginning of the coronavirus outbreak, flight crew have been required to check each other's temperature before every flight, and to ensure that they wear masks whenever they are outside the cockpit.
Can I travel on a private jet if I have COVID?
You will not be able to fly on a jet charter flight if you have recently tested positive for COVID 19, or if you have any active symptoms. If you are in need of urgent repatriation, a medical evacuation flight with a specially equipped aircraft may be possible - otherwise, we would strongly recommend waiting until you are able to test negative.
Can I still travel with my pet during the COVID 19 pandemic?
We are not aware of any jet charter companies that have imposed special regulations on pets that accompany passengers on a flight. Your four-legged friend is not a high risk, and will not require any sort of test.